Dr. Joseph R. Ceisel D.D.S.
Dr. Ceisel grew up in the Chicago suburbs. He attended the University of Illinois College of Dentistry. Upon graduation, Dr. Ceisel chose to help the underserved population in Northern Arizona. He joined the Indian Health Service, and dedicated the next 3 years to providing dental services to the Native Americans on the Navaho Reservation in Many Farms, Arizona. Dr. Ceisel was proud to contribute to better dental health for the residents of the reservation – some of whom lived in hogans without electricity or running water.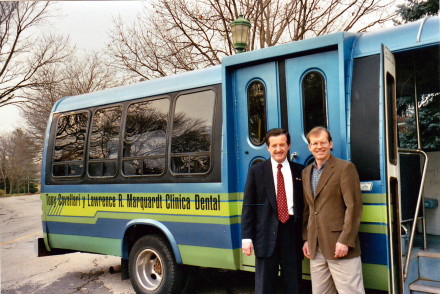 Dr. Ceisel has been a member of the Wilmette Rotary Club for 20 years. In 2001, the Wilmette Rotary and Barrington Rotary Clubs jointly funded a project to outfit a small bus as a portable dental office to send to Mexico to provide no-cost care to needy patients. Dr. Ceisel volunteered to outfit the bus with cabinetry, a portable generator, X-ray machine, and a dental unit. Dr. Ceisel was gratified to learn that as of October, 2012, the bus was still in use and patients were still receiving dental care.